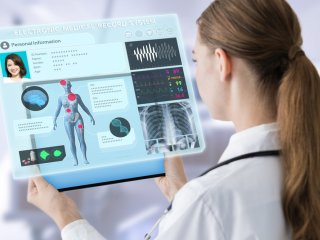 Course Type:
Instructor Led - 4 Weeks Long
Description
Objectives
Outline
Materials
System Requirements
Computer applications are the backbone of today's healthcare. Healthcare Informatics involves the obtaining, storing, retrieving, and using of healthcare information to nurture better collaboration among a patient's various healthcare providers. As the healthcare and technology fields continuous to grow, healthcare informatics is considered one of the number one job opportunities in an emerging industry. Our Healthcare Informatics course will provide an organized approach to introducing the major components of computer applications used throughout the industry today.
* You have 4 weeks to complete this course from date of your enrollment.
** Course Subject to Change.
After completing this course, you should be able to:
Define the basis of informatics and system analysis
Identify clinical reporting data and management
Recall the inner workings of clinical networks
Recognize disaster recovery methods and security measures 
Healthcare Informatics: An Introduction Module 1 Chapters
The Basis of Informatics and System Analysis
Nursing Informatics combines nursing, information, and computer sciences to manage information required for use in the nursing practice. In module one, we will look at the role of the nursing informatics specialist and how they apply the functions of clinical systems to arrange patients' medical information. Also included in module one is an overview of database applications such as user interface, data management systems, and databases. 
Clinical Informatics Applications
Inside a Computer
A Clinical System
Object-Oriented Design
Clinical Database Analysis
Healthcare Informatics: An Introduction Module 2
Clinical Reporting Data and Management
In module two, we will examine clinical data reporting and how to specify criteria and translate physical data into a working database. Also included in module two is an overview of project management and the tools needed to apply a methodology that turns into reality.  The project manager uses open problem-solving techniques to address challenges that may arise during a project.  We will look at how to incorporate all team members in creating collective goals and meeting expectations as a whole.
Reporting Language
Insert and Retrieve Information
Introduction to Project Management
Agile Project Management
Management Techniques
Healthcare Informatics:  An Introduction Module 3
Clinical Networks and Vendor Negotiations
It is important for the nurse informatics specialist to have a working understanding of how a computer network functions and how information is transmitted over the network.  Module three will look at the physical and wireless connections and examine how the roadways connect houses and communities together. Also included in module three, is a closer examination of the tasks performed by employees and vendors and the role of each as it applies to daily informatics management.
Encoding Data
Network Packets
IP Addresses
Conflict Resolution
Working the Contract
Healthcare Informatics:  An Introduction Module 4
Disaster Recovery and Security
Module four will focus on disaster and systems recovery. Catastrophic events may occur. The informatics specialist should understand how to handle records during disaster mode.  We will look at concerns and risks involved during this instance and how to handle not being able to process patient information and medical orders during this time. Since today's medical records are electronic, and stored in a central location, it is imperative that security is set into place to protect this information.  Module four will examine key vocabulary used for storing and accessing records in these electronic formats. .
Clinical Disaster Recovery
Disaster Recovery Operations
Security Audit
Security on a Wireless Network
Computer Viruses
Ed4Career is committed to being both environmentally conscious and making it easier for you to study! We're making your education mobile! All of our textbooks are now provided as eTextbooks. You can access them on your laptop, tablet, or mobile device and can study anytime, anywhere.
The move away from physical books to eTextbooks means you get the latest, most up-to-date version available. This also makes your training more accessible, so you can study anywhere you have your phone or tablet. The best part is that all materials are included in your training cost so there are NO extra fees for books!
Internet Connection
Broadband or High-Speed - DSL, Cable, and Wireless Connections
*Dial-Up internet connections will result in a diminished online experience. Classroom pages may load slowly and viewing large audio and video files may not be possible.
Hardware Requirements
Processor - 2GHz Processor or Higher
Memory - 1 GB RAM Minimum Recommended
PC Software Requirements
Operating Systems - Windows 7 or higher
Microsoft Office 2013 or higher. Also, you could use a general Word Processing application to save and open Microsoft Office formats (.doc, .docx, .xls, .xlsx, .ppt, .pptx)
Internet Browsers - Google Chrome is highly recommended


Cookies MUST be enabled
Pop-ups MUST be allowed (Pop-up Blocker disabled)

The Kindle Reader App or VitalSource Bookshelf App are needed for many of our courses (No special equipment needed. This can be downloaded for FREE onto your computer.)
PowerPoint Viewer (if you do not have PowerPoint)
QuickTime, Windows Media Player &/or Real Player
MAC Software Requirements
Operating Systems - Mac OS x 10 or higher with Windows
Mac office programs or a Word Processing application to save and open Microsoft Office formats (.doc, .docx, .xls, .xlsx, .ppt, .pptx)
Internet Browsers- Google Chrome is highly recommended


Cookies MUST be enabled
Pop-ups MUST be allowed (Pop-up Blocker disabled)

The Kindle Reader App or VitalSource Bookshelf App are needed for many of our courses (No special equipment needed. This can be downloaded for FREE onto your computer.)
PowerPoint Viewer (if you do not have PowerPoint)
Adobe PDF Reader
Apple QuickTime Media Player